Hack windows 7 admin password. Hack Windows Admin
Hack windows 7 admin password
Rating: 6,6/10

444

reviews
How to Hack Windows 7 Password With simple steps
Select Safe Mode with Command Prompt and then press Enter. Problem 3: Hello, please help me. To know the details, read the method in steps below: Step 1. Ifound lots of new things over here. Thus is the easiest approach of all which instead of recovering passwords, altogether for unprotected entry, so that you can reset the password later on as per your requirement. This piece of letters, number and special characters is of crucial importance.
Next
hack windows 7, 8, 10 admin password
Most of us have experienced a situation where in we need to gain access to a computer which is password protected or at times we may forget the administrator password without which it becomes impossible to log in to the computer. This video tutorial will show you how to hack your Windows Admin Password. Any 14-character or smaller password that uses any combination of numbers, small letters, and capital letters should be crackable. In this guide you can just leave the process going on, came back after a while and then resume. Download and install Windows 7 Password Genius on an accessible computer. Now we will use the safe mode in conjunction with command prompt to reset the forgotten Windows 7 admin password. Without much effort or knowledge of how it works, just remember that it only need 3 step: Download, Burn and Reset.
Next
How to Hack Windows Administrator Password
Now you just need to close out of all the opened windows and restart your computer. Now, the system will ask you to enter the new password for the account. Don't be afraid to get it wrong, just hope it work and follow as we said. Now go to click on file and again click on open. To use a password manager tool to help you remember and replay all your complex passwords. That is the only way my computer would accept it being deleted.
Next
Lost administrator password on windows 7 any way around it?
You can take the most effective way. Write down your strong Windows 7 password on a post-it so you can view it when you forget it. This time a message will appear saying , windows failed to start up. If so, just undo whatever you changed outside of the hack shown here, and it will back to normal. Some security Tips ~ Making strong passwords: Now, You might have come to know that how passwords can be cracked, So there are some tips for you. You computer is likely to contain crucial information, maybe it's personal or professional. Use Windows 7 Password Hack Tool to Hack Windows 7 Password without Logging in is the one of the most recommendable Windows 7 password hack program on the market.
Next
How to Hack your Windows Admin Password « Operating Systems :: WonderHowTo
Once you have the real administrator activated, boot back up and logon to the administrator account. Then for a backup or other use, you may also setup a second user account. So, that if long time is taken by one hash to decode, until it decodes you have generated another hash. In a word -- non-restrictive and powerful enough. Windows Password Key loads, follow the interface to hack Windows 7 password. But now a cmd window will open and you have to type a command - control userpasswords2 and now click on your Administrator account and in the bottom right corner if the windows it will ask for Reset Password. How to Hack Other User Password in Windows 7 with Command Prompt? With proper installation, run the tool with admin rights.
Next
Hack Windows Admin
At this point is where you can change the admin password and make any modification to the system using administrator privileges. Need I say this is for Educational Purposes! Hit enter to open command prompt. But if you wish to get a fully guaranteed output, then will be the best option to heed. Firstly arrange another working computer and download the tool to it. All the windows accounts will be listed, then type the acount you wish to change. I am really annoyed by this, it is still new laptop and I want to know whether there is a way to reset the password? The only requirement for this is that you need to have administrator privileges. Disclaimer : This is for educational purposes only.
Next
How to Hack Windows 7 (Become Admin) « Null Byte :: WonderHowTo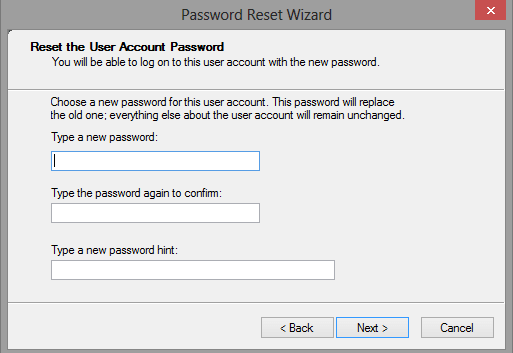 This way it helps you to fix problems like in the case of troubleshooting. You are responsible for your own thoughts and actions. Now the rest of the choice depends upon you. Which administrator account are you talking about? New Password: Type a new password to replace your old password. For starters, Windows 7 already has a built-in feature of resetting your disk which can be used to reset your password. You can borrow from your friend's if you haven't.
Next
How to Hack Windows 7 Password With simple steps
In comparing with others methods this method is safe because here just I am introducing you a simple one more function to reset windows 7 password without disk and in a matter of requirement you are not require anything such as command prompt, software or internet to Windows 7 password hack. Step 3: Tap your new password and log on computer successfully. No need to format or re-install Windows! Well I too have a trick to bypass admin password…. I had no idea it could help get into my other laptop until I started learning how to use it Linux better. Procedure reset windows 7 passwords without disk Here follow each and every single step with their own perspective image. It is flexible with several application ranges that can be used successfully to gain the best recovery benefits. Two ways to help you regain acess to your Windows.
Next