How to crack a software using ollydbg pdf. How To Crack A Program Using OllyDBG
How to crack a software using ollydbg pdf
Rating: 6,4/10

1485

reviews
How To Crack Software Using Olly Debugger
Select it and Right-Click set a breakpoint on every call to RegQueryValueExA. Here is how to detect which bytes are being changed by the patcher and how to re-create a new patcher that could work for the latest version. This sub is aimed at those with an understanding of hacking - please visit for posting beginner links and tutorials; any beginner questions should be directed there as they will result in a ban here. Abstract The objective of writing this paper is to explain how to crack an executable without peeping at its source code by using the OllyDbg tool. A Cracker works his way through a program by disassembling it and understanding the security protections built into it.
Next
The Hacks Behind Cracking, Part 1: How to Bypass Software Registration « Null Byte :: WonderHowTo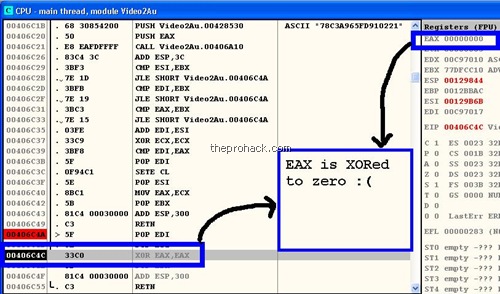 Now we will attempt to find the time limit checking code. Next press F12 to pause the debugging execution. All we get is an error message when we attempt to execute it. Step 2 Run the Program in a Debugger Run. Did you find this list helpful? Figure 14: Opening CrackMeDemo in Olly Olly will disassemble the binary file and it will look something like Figure 15.
Next
5 Free PDF Password Remover Software to Crack Any Protected File
You can now install the latest version of ViceVersa Pro v2. This works because assembly allows you to speak directly to the processor and force a skip over the registration process. Once we find that, we have to check out if it's calling convention code - A jump. Even with today's most advanced methods of defeating piracy in place, it is still relatively easy to crack almost any program in the world. Now we have the assurance that the file has not been compressed. Even with today's most advanced methods of defeating piracy in place, it is still relatively easy to crack almost any program in the world.
Next
How to Crack any software using OLLYDBG
Here the red box shows the entry point instructions of the program, referred to as 00401204. Now it is time to do some modification to the binary code. GetDlgItemTextA at the address 004011F0 write this address down too. OllyDbg is a 32-bit assembler level analyzing debugger for Microsoft® Windows®. This will bring up the Calls window.
Next
Reverse Engineering with OllyDbg
This is to verify that we can come up with the keys. For example, an offset patcher for a program called ViceVersa Pro v2. If you intend to use this information to impress your friends, leave it and grow up! It does anything the code tells it to do, and cannot do anything that is not written in the code unless it has been run over by a herd of cows and abducted by aliens. Its interface looks like this: Now open the SoftwareExpiration. OllyDbg Hotkeys There are several hotkeys that you will find useful during your debugging session. Hi Thanks for this tut, but i need some debugger for mac os x app so i can crack the app i want. One of the tests consisted of getting the serial key of a simple program.
Next
Cracking using OllyDbg
To achieve this purpose we are going to use. By hitting F9 to run the debugger, we should encounter the error message as seen in Figure 16. If you've ever wonder how pirates can take software and crack it time and time again, even with security in place, this small series is for you on how to bypass software registration 2019. If you liked this post, feel free to share it with others who may be interested in learning the art of reverse engineering. Though, disallow disassembling using IlSpy or ildasm is also easy task. Only if you are able to think out of the box and figure out how to bypass the software protection yourself, then you consider yourself as a software cracker. In any case you disagree with the above statement, please stop here.
Next
How to crack software
How to reverse engineer In here, we are taking a keygen. This time, we have to choose some different approach to crack the native executable. This time, we are confronted with an application whose origin is unknown altogether. Check this on the top-right of your screen, in the above picture are number 2 and 3. By attempting to defeat the copy protection of your application, we can learn a great deal about how robust the protection mechanism is. We have already done much reverse engineering of. MessageBoxA near the bottom of the call stack.
Next
How to Crack any software using OLLYDBG
We are going to start with checking the registry. Reverse engineers analyze your source code in assembly language and try to manipulate that source code using debuggers and by that, it removes the security or licensing or maybe they make an alternative software. After the file has been disassembled, we will look for the string from the messagebox. Many people will think that they are unethical because they are defeating the software licensing system to illegally shareware or turn it into an fully functional program without having to purchase the license. Unfortunately it is nearly impossible to have someone to teach or coach you on how to crack programs other than learning it yourself from cracking tutorials that.
Next
Cracking using OllyDbg
This is not the registry key we are looking for so press Run again. Find typical and common Strings in the disassembly that appeared within the program. To crack this program we can change the je instruction into two nop instructions… and we are done… We have seen here, that the call has put a value in eax…. Figure 3 x86 assembly code Now, we will find out the two jumps that actually make the comparison and matching for our name and password with its logic. Hi, I am facing an issue in my company, mine is a small startup. We are going to patch the jump that returns the invalid registration box. To start with obfuscate, we are taking one reverse engineering tool, which is OllyDbg.
Next
assembly
How to crack a program with ollydbg You should now be on the code at location 0x00401055. If you do attempt to do anything, you are solely and fully responsible for what you do! MessageBoxA is made Figure 19. Introducion: I have read many cracking tutorials lately. The Main steps of cracking There are 7 steps in the process of cracking: 1. He earned a Master and Bachelor Degree in Computer Science, along with abundant premier professional certifications. After disassembly, Olly will take us to the entry point, which for this sample is at virtual address 0x40129E. And that's how you get your through with your software reg but if you finding any difficulties in that just contact me on the email on my bio that's when you click on my profile.
Next